Hi Kids. I am new here. My mom always talks about her "pony" at school who used to post here, so I got online to check it out. Looks fun!
First of all, my name is Stewart. But I am a gelding of many names. At the shows, they call me
Saturday Night Live
. At home they call me Stewie or Stewart, etc. Rebecca (my temporary Mommy) calls me
The BFH
. I don't know what that means, but I'm pretty sure she said something about Fruitbats. No idea. Oh yeah, and my "Registered" name was
San Soliloquoy
which mom HATES but Rebecca likes. I never raced. My dad was a dressage/even horse. He looked like me but he had a butt.
I'm really big. 17.2 (almost) even though the lady with the stick measured less (She measures short, so my mom says- my friend Ghost is NOT a large pony...at all).
My life is pretty boring. Except they made a big scary red jump in the ring, and i'm a huge fan of NOT jumping it! It flaps in the wind and is VERY scary.
This weekend I'm going to a clinic in the city at the place with the big stalls. Its 3 days long and is about Equitation, so that means that the guy (Nick Karazissis...) will be yelling at HER not me. Rebecca doesn't like it when clinicians are mean to pony, once, Ray Texcel called me a Bastard so now Rebecca and Mom HATE him.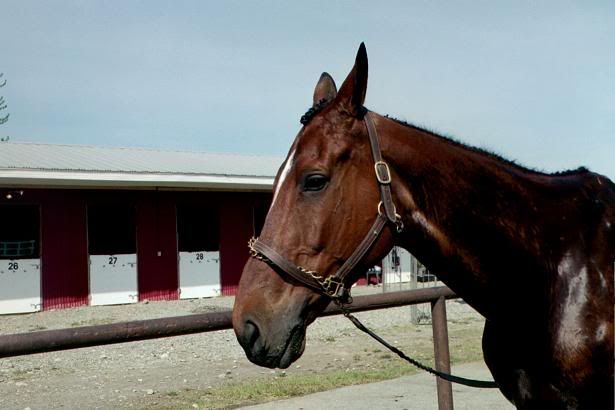 My headshot.
Me trotting
This oxer was SCARY
Did you know that I qualified for national Junior Hunter finals?
Me and Rebecca
Um. Ok. I will talk more later. And I'll have my own icon soon, but Rebecca said I could borrow this one since she says "Stewart, you're rad".